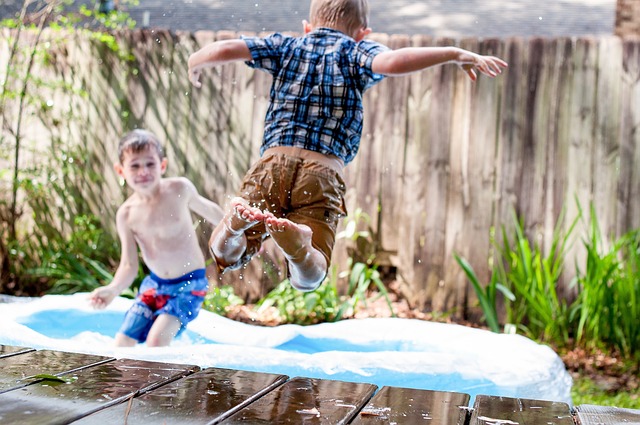 Are you looking for something to do with your kids today? Something inspiring, that will keep them busy, learning, engaged, and off their electronic devices?!
Here are 5 ideas you can do today, or at least start today, that will inspire you and help your kids to develop their enjoyment, social skills, intelligence, and independent thinking.
1. Plan activities in and around your home and neighborhood with others
Plan activities that will help your child learn about working and socializing appropriately with others.
Have friends over to play (and don't let them use any electronic devices!)
Have a cooking afternoon
Make paper planes and see how far you can make them fly
Look up some fun science experiments and try them at home with the kids
Go bike riding, roller blading, or skateboarding
Have your kids create and put on a drama or musical performance for your families with their friends
Have an art and craft day with friends
Have a play date at the local park, beach, or swimming pool
On a hot summer's day, have a water fight – fill up LOTS of little balloons with water, and have fun chasing and throwing them!
Join the school band or community orchestra
Take acting classes
Join in on community events
Scouting groups
Find clubs focussing on a particular interest that is relevant to your child
All these ideas … and there are many more … will help your child learn to get along with others in a cooperative manner.
2. Make good use of your local public library
You have access to all sorts of media and information available freely at the library. Look for books, movies, and other materials. You can help your kids get started with projects they are inspired about, support, enhance, and expand upon the information your child is learning at school, or simply find a great story to enjoy and spark their imagination.
Often public libraries also have author talks and other fun activities for the kids. Just check online or ask when you  are there.
3. Use math skills for every day activities
You can make up lots of interesting activities using math skills! You can simultaneously have fun and teach your child the importance of knowing how to add, subtract, multiply, and divide in everyday life by involving your kids in every day math problems.
There are lots of fun activities to do that involve math!
Some examples of what you can do with your kids today are:
Convert measurements for cooking and housework.
Go for a walk. You can calculate how far you walked using a physical map or with your phone's maps app. Then use the distance you walked, along with how long it took you, to figure out your average walking speed in miles per hour.
When you are out at the shops, you can help your child:

Calculate the total price of a store item if you buy more than one.
Figure out which item is the best value, based on size and price.
Calculate the cost of the items you buy by writing the prices on a piece of paper as you go and then adding them up.

Help your child plan and save to buy a particular item (toy, piece of clothing, etc) your child wants.
Keeping close tabs on your own accounts and helping them to do the same with their pocket money and savings. Make sure your child sees what you are doing and knows why.
Calculate the square footage of rooms in your house when you are shopping for rugs, tile, or furniture.
Calculate the area of your walls when you are thinking about buying paint.
These activities are things you can do today, and they also show your child that the math he or she is learning in school has real life practical applications. Have fun!
4. Visit museums, local theater productions, and other cultural/social events and venues.
Take every opportunity to come in contact with people from other cultures and learn about their way of life:
Visit a museum or art gallery.
Check local events for productions, cultural celebrations and other activities in your local community.
Check the schedule of classes at your local community center and your local library to see if there are interesting, enjoyable, and enriching classes that you and your child could take together to broaden your knowledge and learn more about the world.
5. Keep a wide array of fun learning materials on hand to use any day at home
Having lots of kids things to do today doesn't have to cost you lots of money or take lots of time. There are plenty of things you can do at home with your kids that will build your relationship with them – this is always time well spent! Having a variety of activities available at home will always give you something fun to do any day with your kids. These may include:
Art and craft materials – Create artworks to celebrate a special occasion, welcome in a new season, paint the family, do a self-portrait. Hands on craft is also wonderful to stimulate the brain. These tactile, creative, expressive outlets can also be a time to mull over ideas and talk about plans and dreams.
Dress ups and costumes – acting out different roles can help kids to have fun and explore other characters, and express another side of themselves. Writing a little play with friends and putting on a performance can be awesome fun for kids!
Keeping a dictionary, a thesaurus, and an encyclopedia, to look up interesting facts offline. These are simple skills that knowledgeable people have which are becoming unfortunately less and less common. It is as important to know how to look through these resources for information as it is to know how to find information online. There may be times when a computer, smart phone, or tablet will not be available. Knowing how to use traditional sources of information is very useful.
Musical instruments. Music stimulates our brain in many unique ways. Learning an instrument can be very beneficial for brain development and intelligence. But even for those who don't take formal lessons, having a guitar to strum, or keyboard to make up little tunes and sound effects can be an amazing outlet for many kids. Always encourage their creativity, and don't criticise. The encouragement will inspire them to try more ideas!!
Board games – interactive, fun, and at times challenging – all very good for kids!!
Basic ingredients to cook with together – Time spent together preparing a delicious meal or making some tasty treats is not only wonderful for mentoring kids in life skills, but it can also be a beautiful way of spending quality time with your kids – something that every child desires!
Basic gardening supplies – a packet of seeds, a few little pots, or a patch of your garden, and some quality soil or potting mix can be a fun way of teaching your kids about growing things. Plant flower, lettuce or vegetable seeds, and watch them grow!
Keeping a variety of resources at home and playing together with your kids will encourage them to develop their mind, creativity, and enjoyment at home. Spending the time doing these things with together their parents, siblings and friends is is SO valuable for all kids!
Conclusion
Take the time to play with your kids. Find fun activities that you can do together today, or that they can do with others. By making good use of readily available resources, you can introduce your child to a wide variety of fun and educational activities. This will greatly expand them as well-rounded kids. The example they learn from you, their curiosity about life, and the ability to get on well with others are all life skills necessary for kids to make a difference in their world. 
So, have fun with these 5 top kids things to do today, and I hope you are and your kids inspired to play and grow together even more!